276949_248753735186160_1106765353_n.jpeg
11.41KB
0 downloads
Hello fellow EMTs, paramedics, nurses, doctors and readers of these pages!
As promised here is an introduction to the french Civil Protection! It is quite detailed but I'll try to put in pictures and make it easy to read!
NB: I do not own the pics, everything was taken from public areas, I do not intend to make any profit with those pics, and bring them to you only with the purpose of information.
- I - History
The today's civil protection comes from the evolution, fusion and division of services created during WW2:
The "
Défense passive
" was an army-like organisation of civilians in charge of helping and protection the population. This idea of "soldiers within the borders" dedicated to firefighting, medical emergencies, technic interventions (gaz, water...) or transport coordination still exist today.
After the war, a large unit of "Civil Protection" was created by the Paris Police Department:
These plates and helmets were worn by the EMTs of the Police Department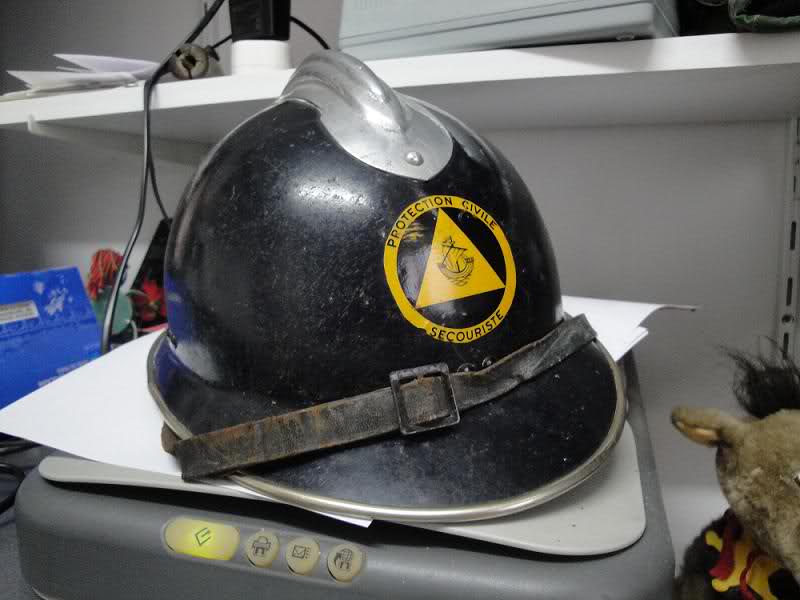 In 1990, this service was terminated, leaving all the employees and volunteer EMTs without resources...
In the 80's tough, a private service called "Protection Civile", also working with volunteers was created in Paris.
The volunteers that were thrown away by the Police Department scattered in different services but many of them joined the dynamic
Protection Civile de Paris,
which quickly expanded after that
.An ambulance on the early 90's:
Today the Civil Protection of Paris is the 2nd larger volunteer EMS after the Red Cross.
We count 450 active and trained volunteers and dozens of vehicles (see below). Our annual activity is that of a medium sized full-time EMS.
- II - Logo and name
Our logo is the international symbol of activities related to protecting, rescuing and helping the civil populations: orange disc with dark blue triangle.
The white cross represents the "medical aspect" of our service and is also a trace of an other service that merged with us years ago.
Our current logo

276949_248753735186160_1106765353_n.jpeg
11.41KB
0 downloads
Our name comes from the "Service interdépartementale de Protection Civile" We kept only the last two words.
- III - Uniforms
The former uniforms (used until 2005) were all blue with only an orange stripe:
As it could be confused with fire department or Police, it was changed. We still keep the blue and oranges as main colors, with some white in smaller quantity.
During mission, the full uniform must be worn, with black boots, short or tied hair. Men shall have be well shaved or if they want to have a beard, it must be neat and well-cut. Jewelries are forbidden, save for the mandatory watch.
We can't mix pieces of uniform with causal clothes, and cannot wear the uniform outside our missions.
When we're not on mission or guard duty, we still have a chance to be called on massive accidents, as support of the public services. It is not mandatory to attend to event as it wasn't scheduled. It is possible for EMT to respond, only wearing a part of the uniform (raincoat, HV jacket...).
This is the Civil Protection uniform, with raincoat on:
This was taken during an official ceremony. We do not wear the white gloves, white boot covers on call. The helmets are normally used only in case of danger.
This is the polo shirt version:
During a training session.
The latest innovation for our service: the high visibility "softshell". It keeps you warm, protects from the wind and light rain. It is very supple and comfortable to use

We use the F2 Extreme helmet designed (like the famous F1) by the former french company CGF-Gallet, now MSA.
For our nautical rescue crews, we have a custom, high visibility rescue suit:
- IV - Vehicles
This is the mobile HQ, its cute little name is VeCTra (Vehicle of Command and TRAnsmissions). It's equipped with cell-phone lines, land-lines, a generator, radio channels and emitters, a high mast, computers and Internet servers and a giant touch-screen.
It is operated by a chief (in charge of the whole coordination), a typing operator and 2 or 3 regulators.
http://img15.hosting...0d669a05e61.jpg
http://img15.hosting...i_538302344.jpg
That's all for today, I'll post the rest later on, enjoy!
http://img15.hosting...s/937386503.jpg